The tail-end of our cross country road trip we passed thru the Columbia River Gorge, a canyon that was created by the Columbia River as it divides Oregon from Washington. Measuring over 80 miles in length and up to 4,000 feet deeps, this area has become our new playground.
The Gorge's climate transitions between temperate rainforest and dry grasslands, the rainforest area definitely our favorite for its many waterfalls. There are over 90 waterfalls on the Oregon side of the Gorge alone! Although Multonomah Falls may be the most famous of these at 620 feet high, there are many more just as beautiful. What the other waterfalls may lack in height, the smaller waterfalls make up for in accessibility.
Horsetail Falls
Explore Oregon and this stunning Columbia River Gorge waterfall. The hike is currently open to the Ponytail Falls. Leave the freeway and enter the woods in just a few steps! Although the majority of trails between Rooster Rock State Park and Hood River are closed from fire damage, this short hike is beautiful. Care must be taken with loose rocks. Although family friendly, the majority of families carry their small children. After viewing the Horsetail Falls immediately off the highway, switchbacks with rocks walls lead to the Ponytail Falls. A cavernous area behind the lava flow allows visitors the chance to view their waterfall from underneath.
The main trails continue to the Oneonta Canyon although currently closed. If visitors wish to view the canyon, it is still viewable from the road with nearby road shoulder to park.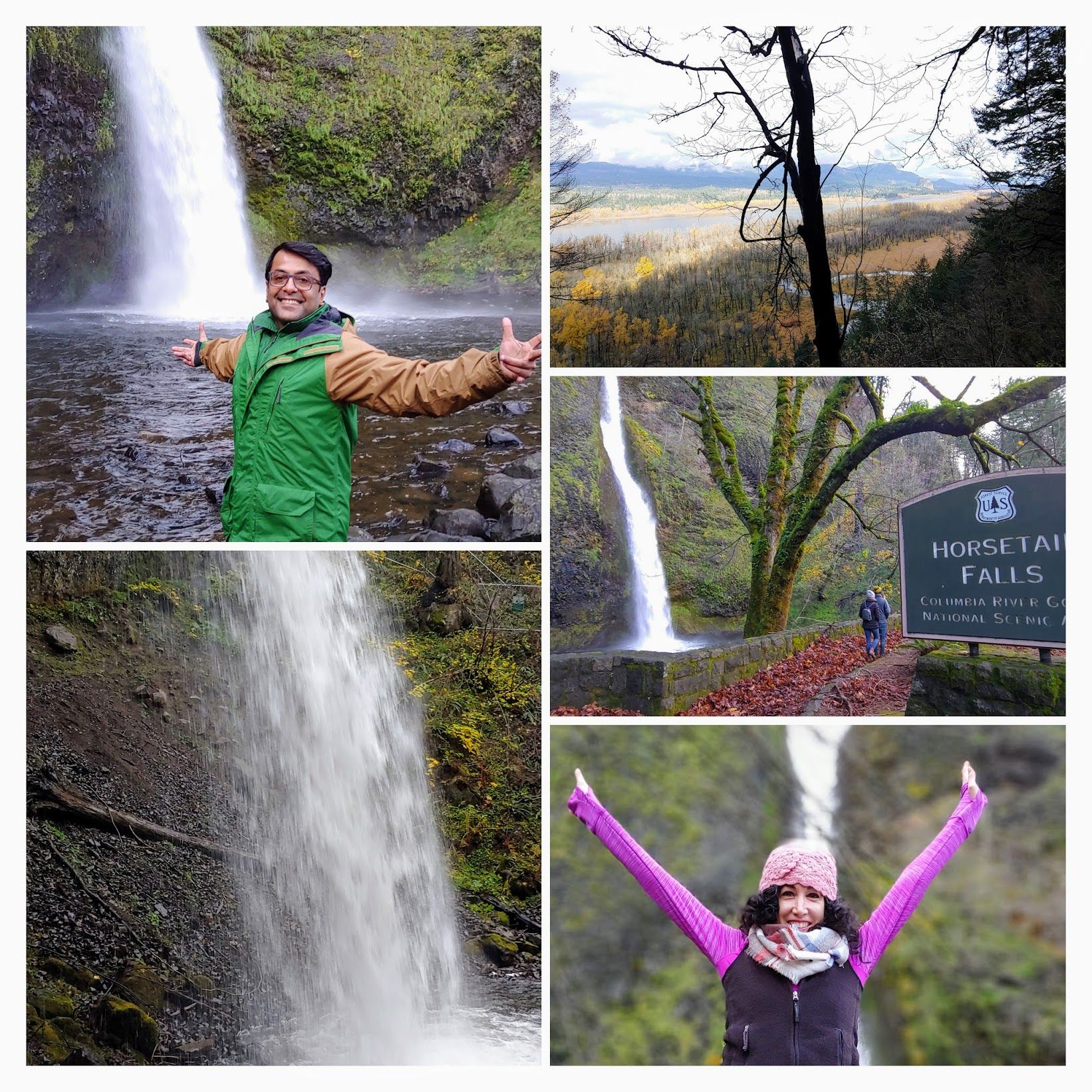 Latourrel Falls
Latourell Falls is a waterfall along one of Oregon's playgrounds, the Columbia River Gorge. The Lower Latourell Falls are easily accessed from the Trailhead and a short further are the Upper Latourell Falls. The entire loop is 2.4 miles with an elevation gain of 625 feet. An easy hike, this can easily be completed in under an hour (more if you want to take in the abundant photo opportunities). Only a short drive from Portland, Oregon this trip can easily be done in a morning.
The trail is open year round and is both family and canine friendly. Lower Latourell Falls is a 224 foot waterfall single plunge system over a lip of basalt. The Upper Latourell Falls is a two-tiered system and equally as beautiful although less dramatic given the shorter drop. Although beautiful in all seasons, the water flows becomes low in the summers.
We visited in November during a chilly but clear day. Waterfall mist may freeze in winter making conditions more treacherous.
Open 6 am to 10 pm. Dogs are welcome on a leash. Entrance Fee: none.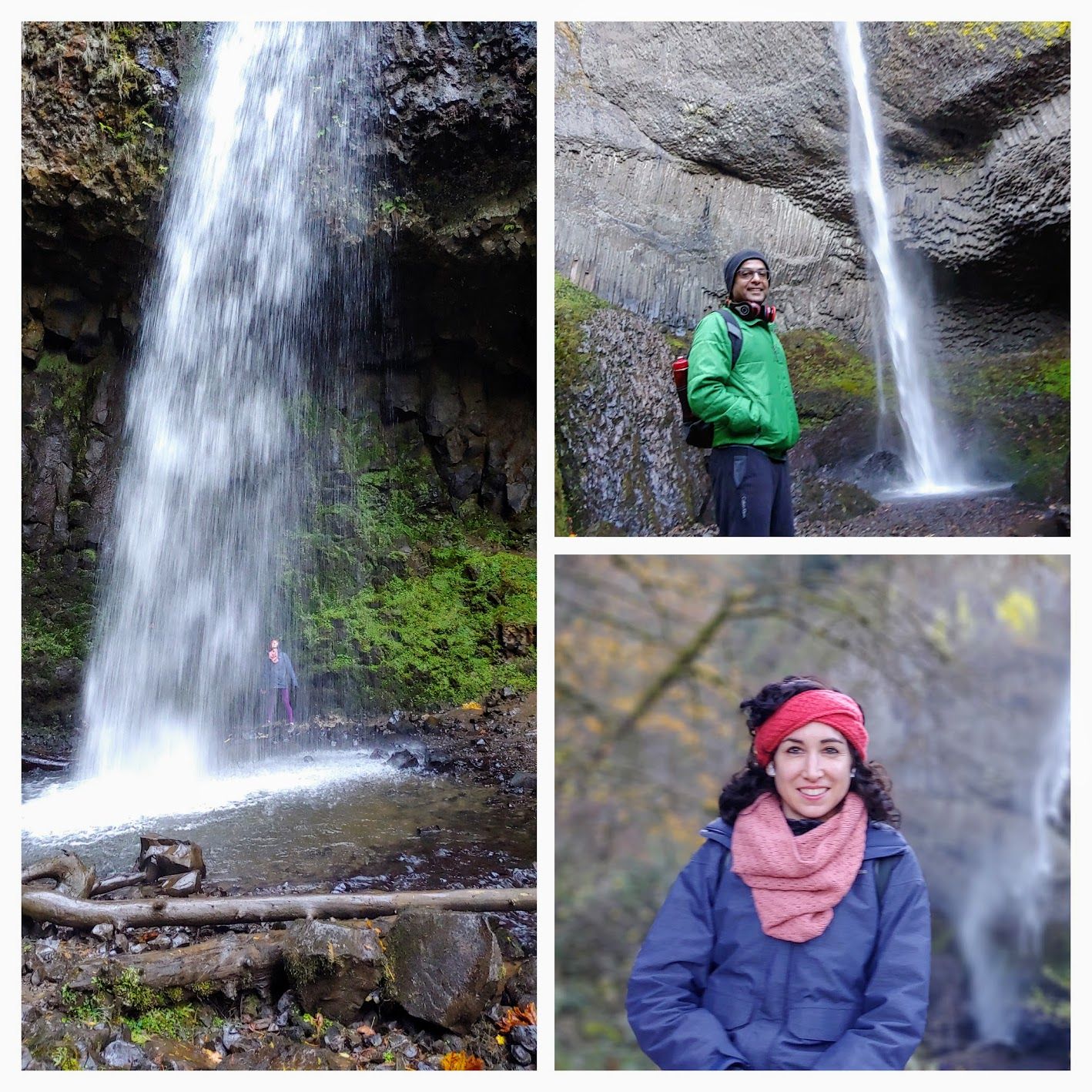 Silver Falls State Park
Silver Falls State Park is a treasure of Oregon. The property is over 9,200 acres. The Trail of Ten Falls is absolutely spectacular and offers hikers the opportunity to walk up to and behind waterfalls. The hike can be taken in either direction as it is a loop. Several of the falls you will be able to hike behind. We packed a lunch and at it behind the North Falls!
A moderate 7.8 mile hike gains 1300 feet elevation to a high point of 1590 feet. If you are not up for a full hike, park at the South Falls and walk down the path. We took our mother when she was visiting for a quick but memorable trip behind the gorgeous South Falls.
Located in Oregon's largest State Park, this trail is well-trafficked by fellow hikers. Dogs are no allowed on the Canyon Trail portion of the hike (where the majority of waterfalls are encountered). The South Falls Lodge offers a cafeteria, clean restrooms and parking will be plentiful. We particularly enjoy the Italian sodas after a long hike.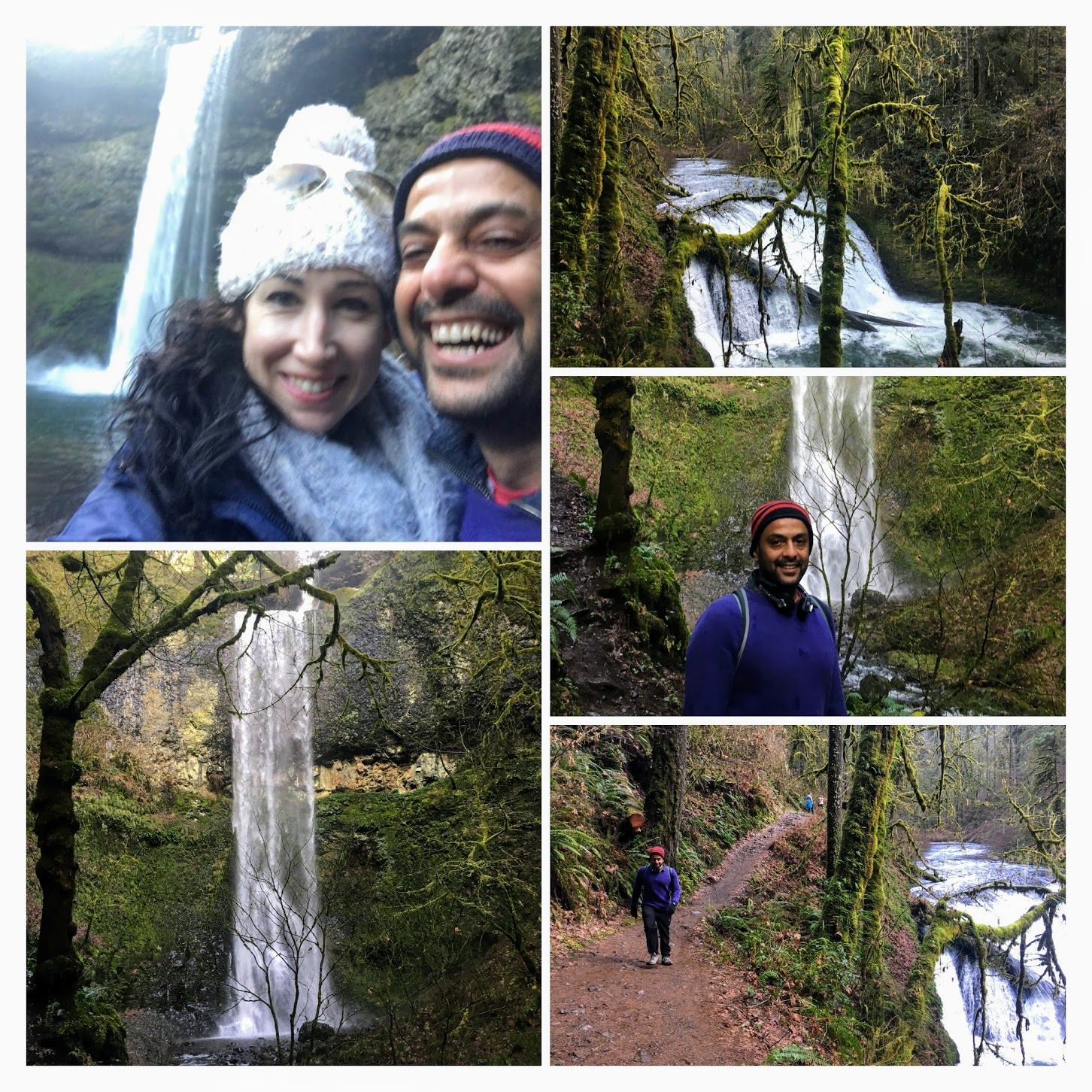 Bridal Veil Falls
A rainy-day drive on the Historic Columbia River Scenic Highway turned into a spontaneous visit to Bridal Veil Falls State Park. Oregon waterfalls are beautiful, but a waterfall after a week of rain on a rainy day is the ultimate. Visitors are thinned and the waterfalls are thinned. The spray soaks you but for us that was half the fun.
Bridal Veils falls is easy walking distance from the parking area. Out and back only requires a 2/3 mile walk. For visitors that want to stay dry, a viewing platform was rebuilt in 1996.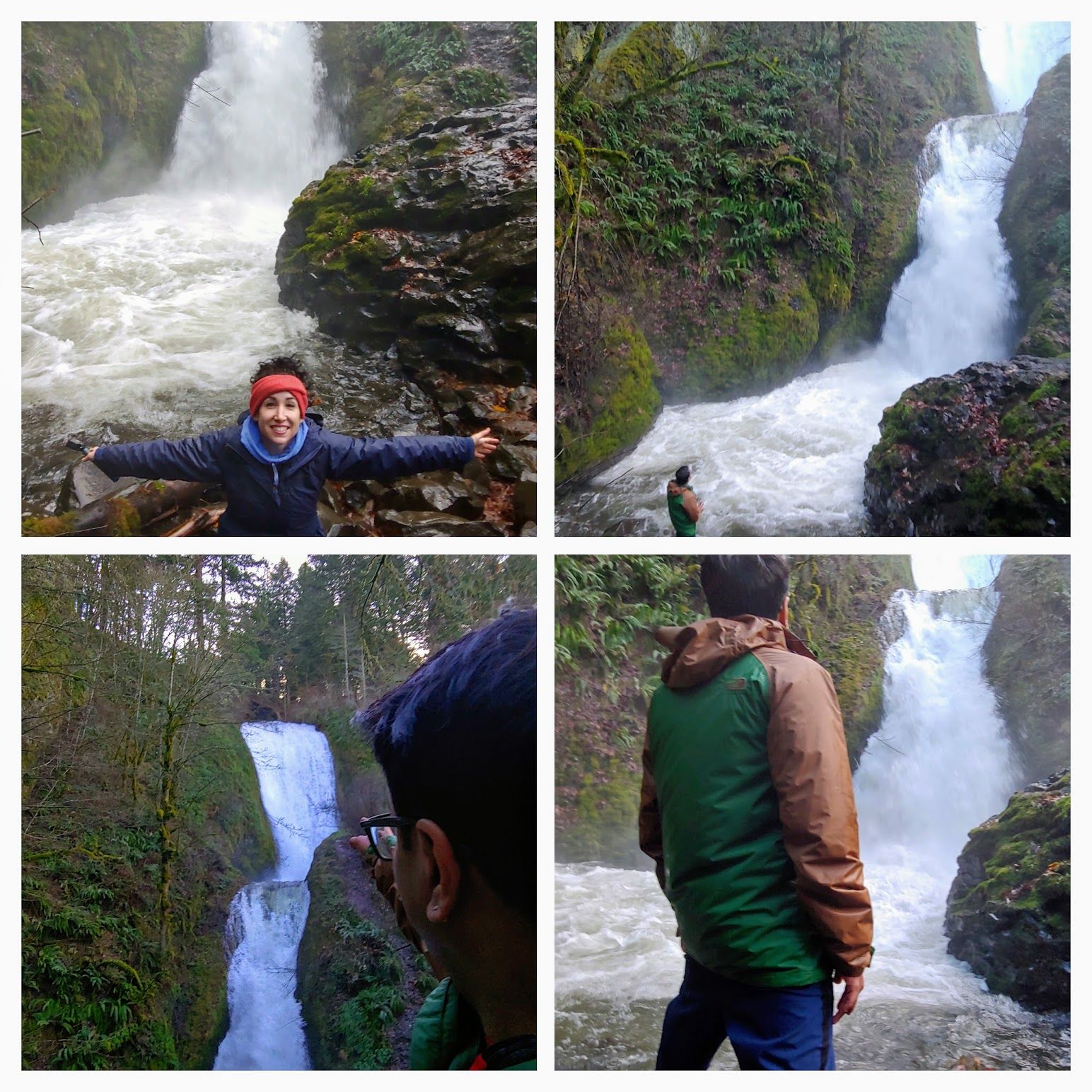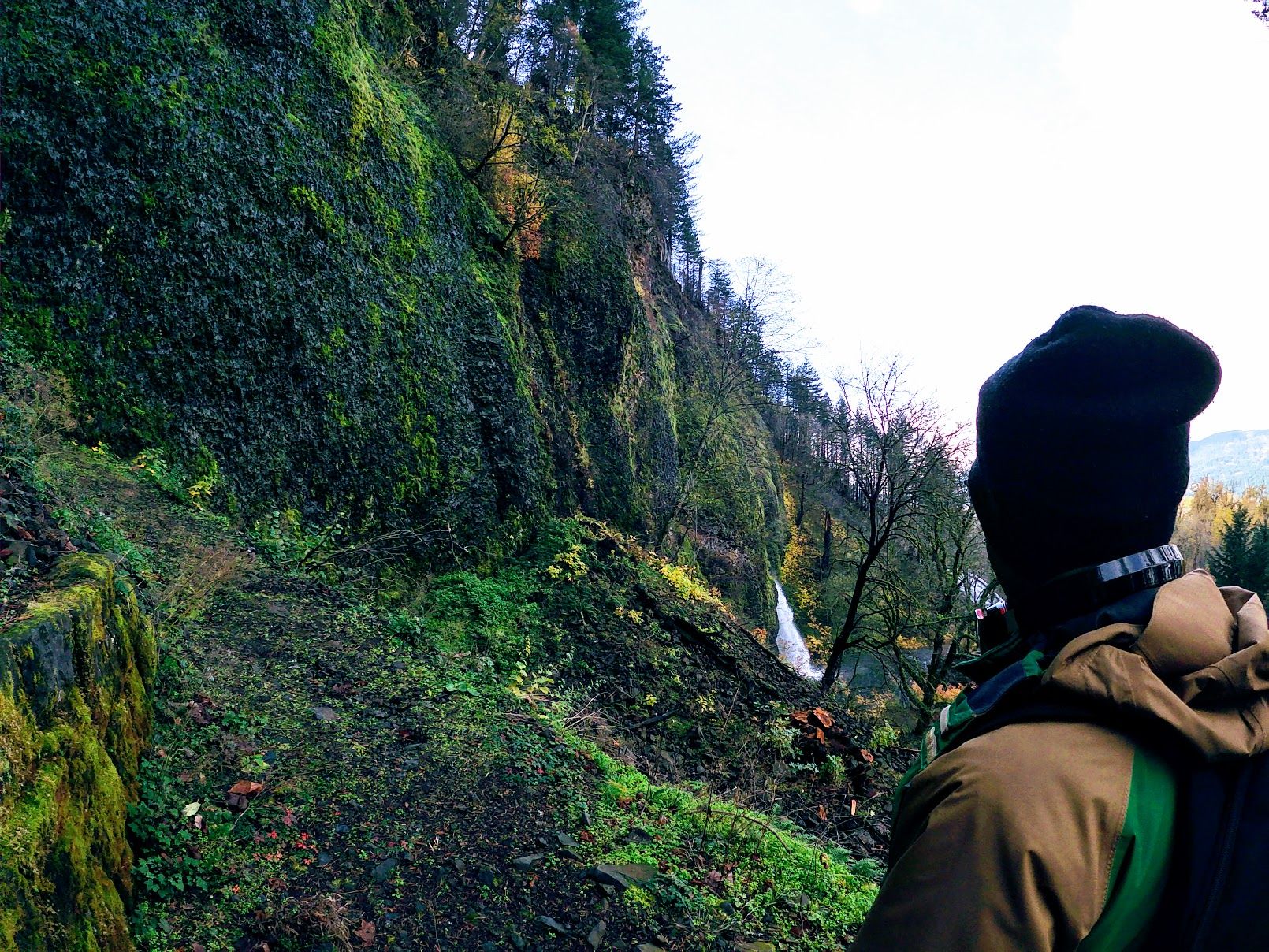 Wahkeena Falls
Wahkeena Falls has a unique beauty all its own. It's not huge or have a fancy lodge or freeway exit to draw crowds. It's just beautiful.
However, if a massive waterfall and large crowds are your thing, we recommend the half mile hike from Wakheena to Multonomah Falls.