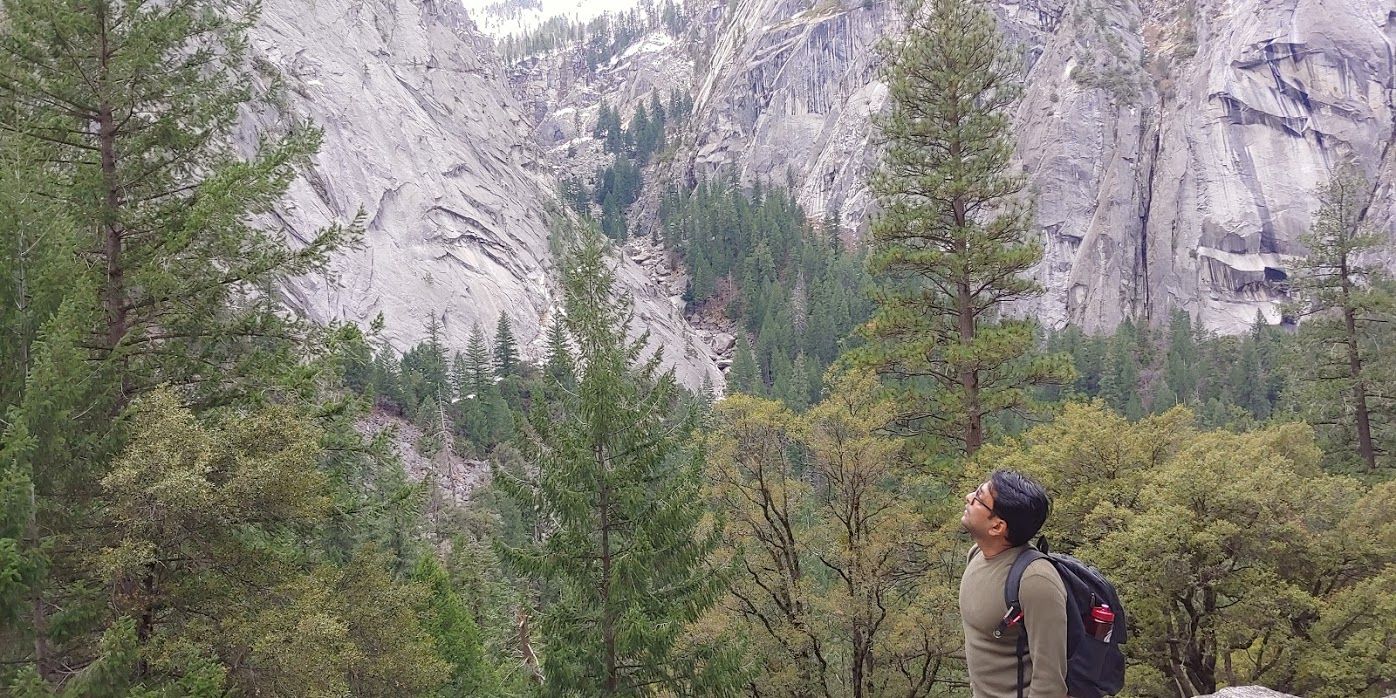 ---
Yosemite is located in the Sierra Nevada Mountains, About 185 miles east of San Francisco and 360 miles north of Los Angeles. Nearby airports include Fresno/Yosemite, San Francisco, and Reno.
Ravi needed to obtain a VISA from a European consulate in Los Angeles (more on that later!) so we chose to drive a rental car from LAX and drop off the car at the Fresno/Yosemite airport. Although more costly to rent one-way, it was well worth the time equity and hassle of driving all the way back to Los Angeles. Plus, we made a Yosemite adventure out of a necessary trip to Los Angeles to obtain a travel VISA for another upcoming adventure. We found the best deal, an intermediate SUV, with our Costco travel membership.
The closest town is Mariposa, located on CA 140 approximately 30 miles west of Yosemite Valley. If you are visiting Yosemite in the winter, chances are you will be driving CA 140 as this road is open year-round. Mariposa will be the last call for 'civilization'. Here we stopped for dinner, grabbed tire chains for possible flash snowstorms, and stocked up on a few groceries.
Entrance fees will run $30 per car for a seven-day entry. We used our National Parks Pass to gain entry.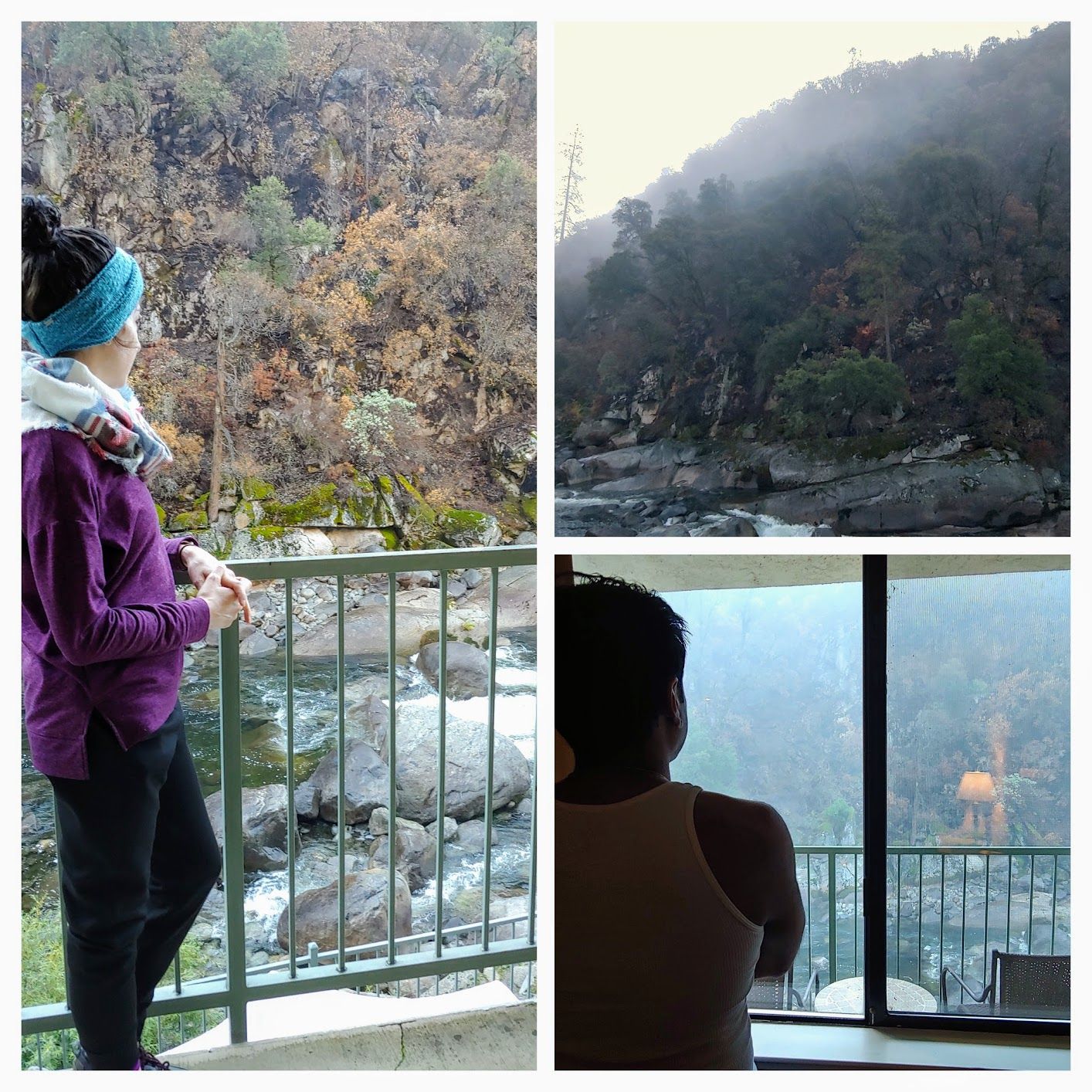 Mirror Lake
The Mirror Lake Trail is a 2 mile round trip to and around the lake. The trail is an easy walk, accessed at shuttle stop #17. The first mile of the trail is even paved. Mirror Lake supposedly has minimal water at the end of year, so come early to catch a reflection shot of the surrounding granite cliffs. In the later summer, this area is called Mirror Meadow when the water runs dry. However, we visited in December and there was enough water to grab these reflections shots given the water was dead still. Exhibits along the way map out Mirror's Lake's history if that is your thing. Trail is open year-round.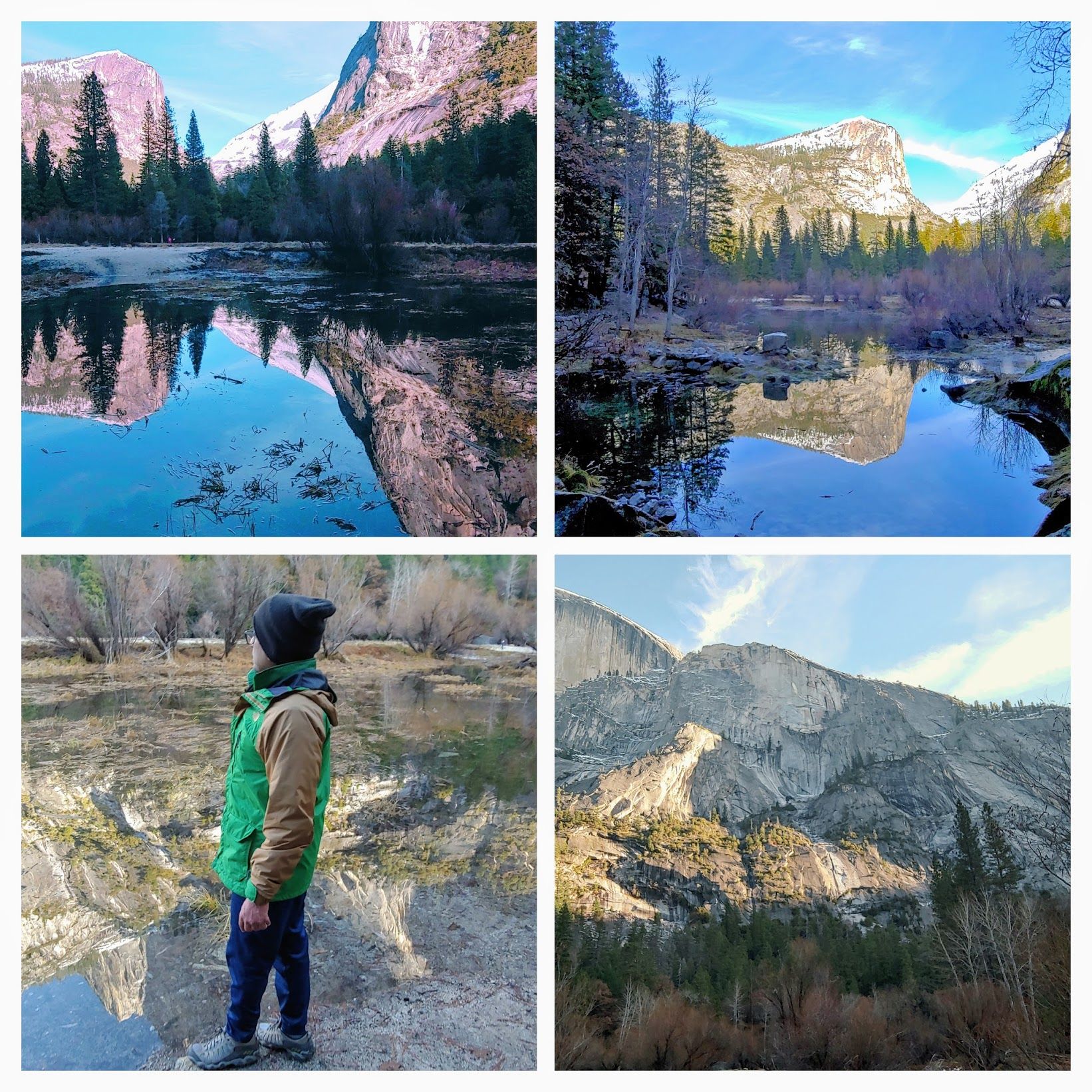 Vernal Falls
Vernal Falls feels so much larger than its 317 feet. Unlike Bridalveil Fall, Vernal requires some sweat equity and cannot be viewed from the valley floor. The easiest path is a well paved trail from Happy Isles Nature Center. The Vernal Falls footbridge is a 1 mile, mostly uphill journey with some spectacular views. However, I recommend getting to the base of the waterfall by walking the aptly named Mist Trail. Although this trail closes in the winter due to possible rockfall and slippery conditions, many visitors took this path regardless. Lakshmi insists on following the rules which commited us to a treacherous 4 miles uphill hike around the winter route. Well, at least we got a workout. Plus, she was so tired after we reached the Vernal Falls that we took the closed Mist Trail down.
As is true for all waterfalls in Yosemite, the ideal time to visit is in late April to early May at peak flow secondary to glacier melt. We visited the second weekend in December and it was still stunning.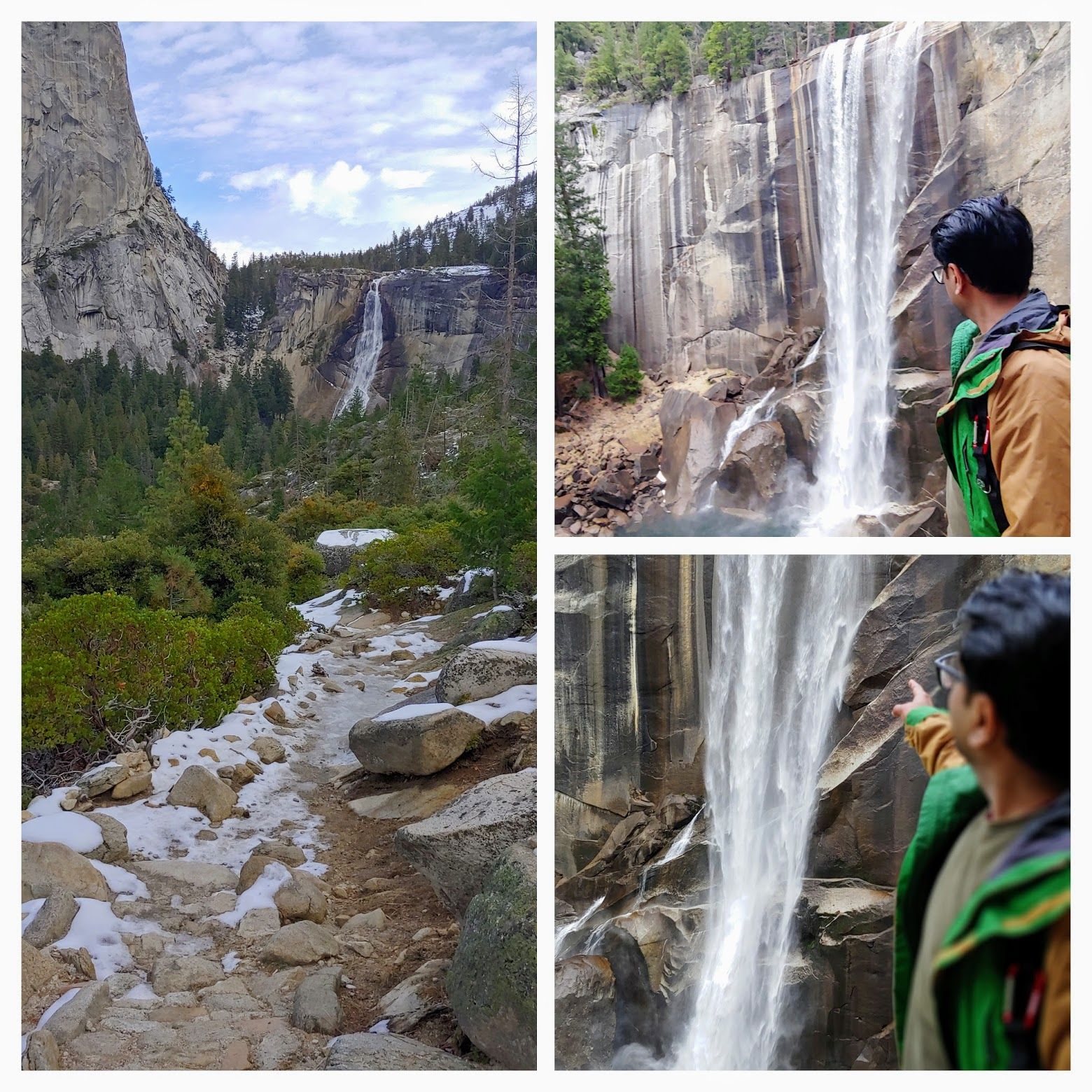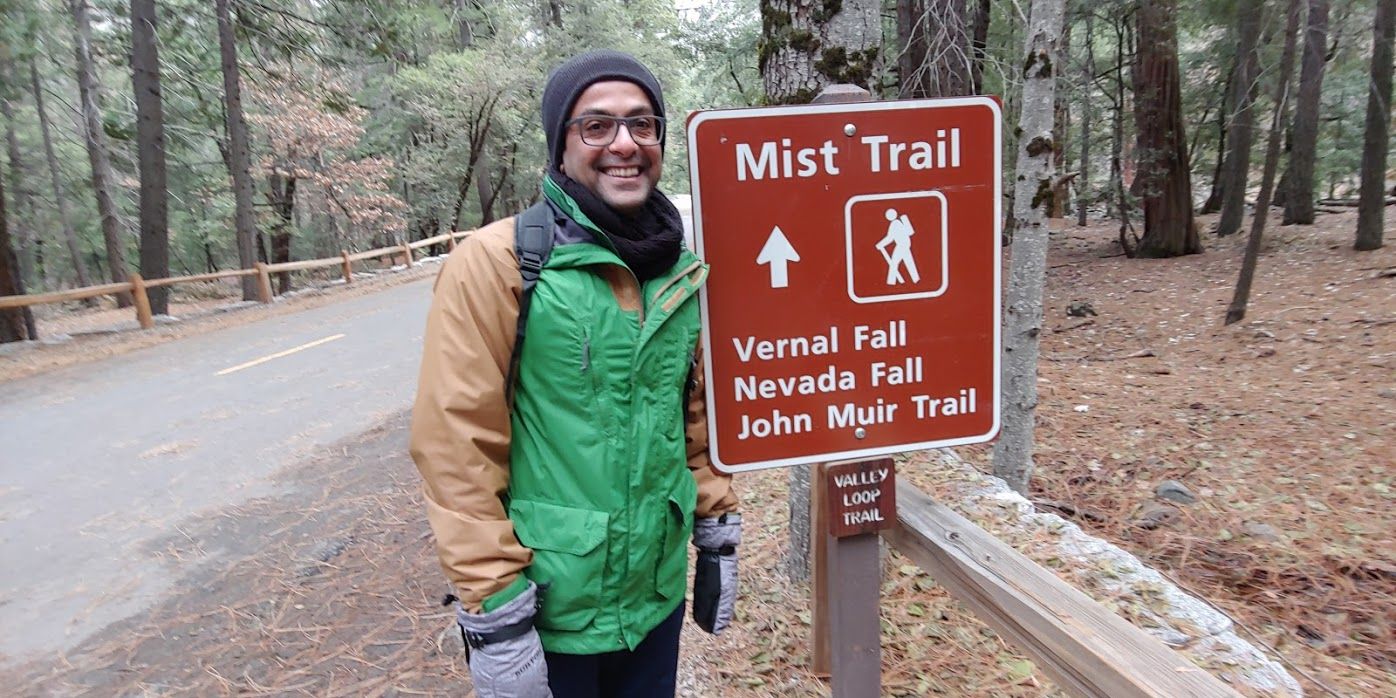 El Capitan
Spanish for "The Captain" or "The Chief", this vertical rock formation was made even more popular by Alex Honnold's historic climb, documented recently in the biographical documentary Free Solo. We are memorized by this man's talent and seeing the enormity of his accomplishment in person was one appeal of this trip. Approximately 3,000 feet (900m) from base to summit along the tallest face, this is a popular destination for rock climbers. Since 1905, over thirty fatalities have been recorded. The most popular route is "The Nose".
Take in the view from the El Capitan Meadow and try to spot a tiny bit of color the vast rock face.
If you visit in winter, there will be snow in this shaded meadow. We passed many families makes snowmen and memories with their children.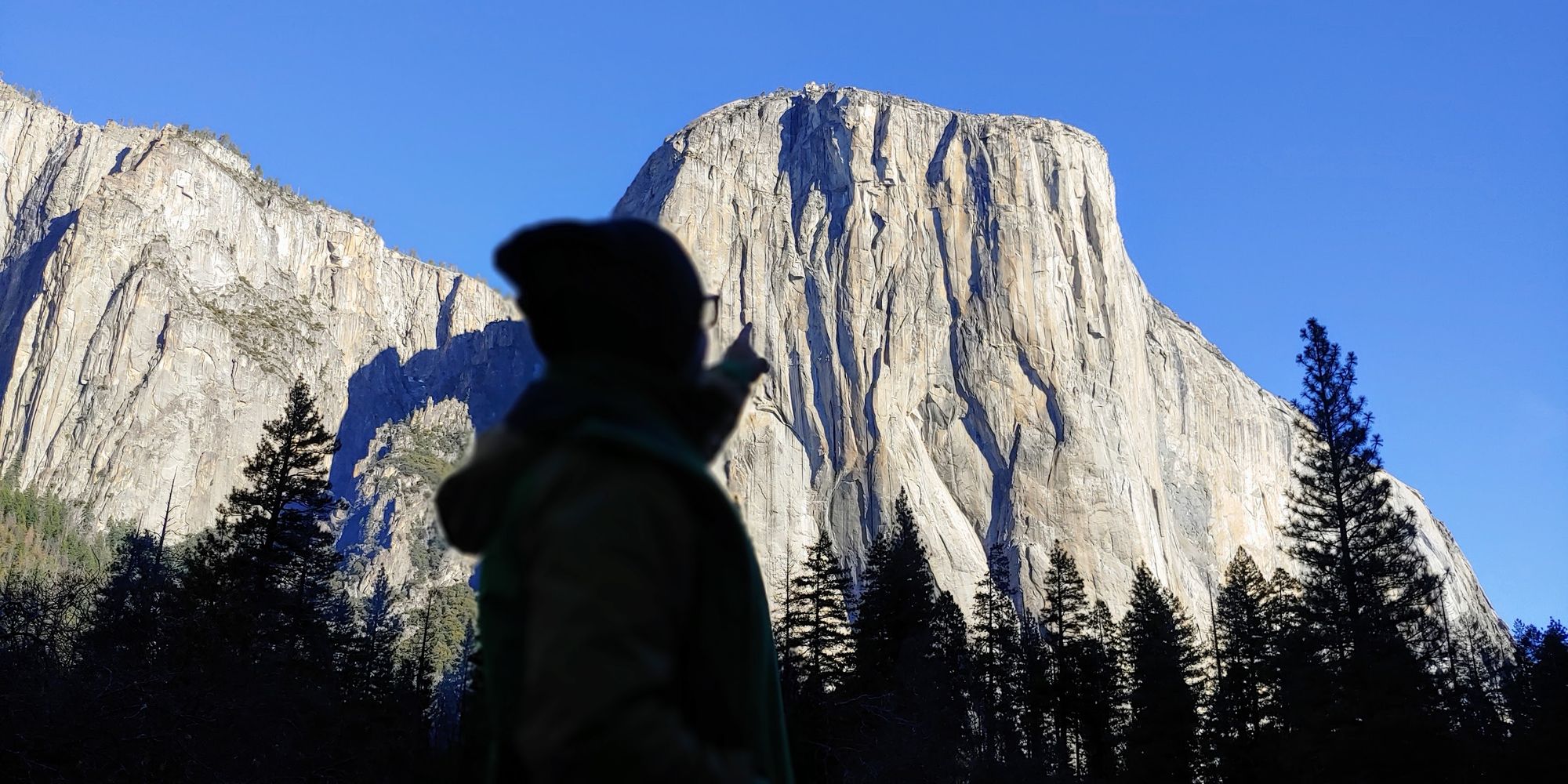 Bridaveil Fall
This waterfall is one of the most iconic waterfalls in the park and it is just a short hike from the main Valley. It has intense spray in the spring but we visited during low flow in the winter. The Ahwahneechee Native American tribe believed that inhaling the mist would improve your chances of getting married. This was the first waterfall we say and I thought it was absolutely the most stunning sight. Little did we know what else there was to see this weekend.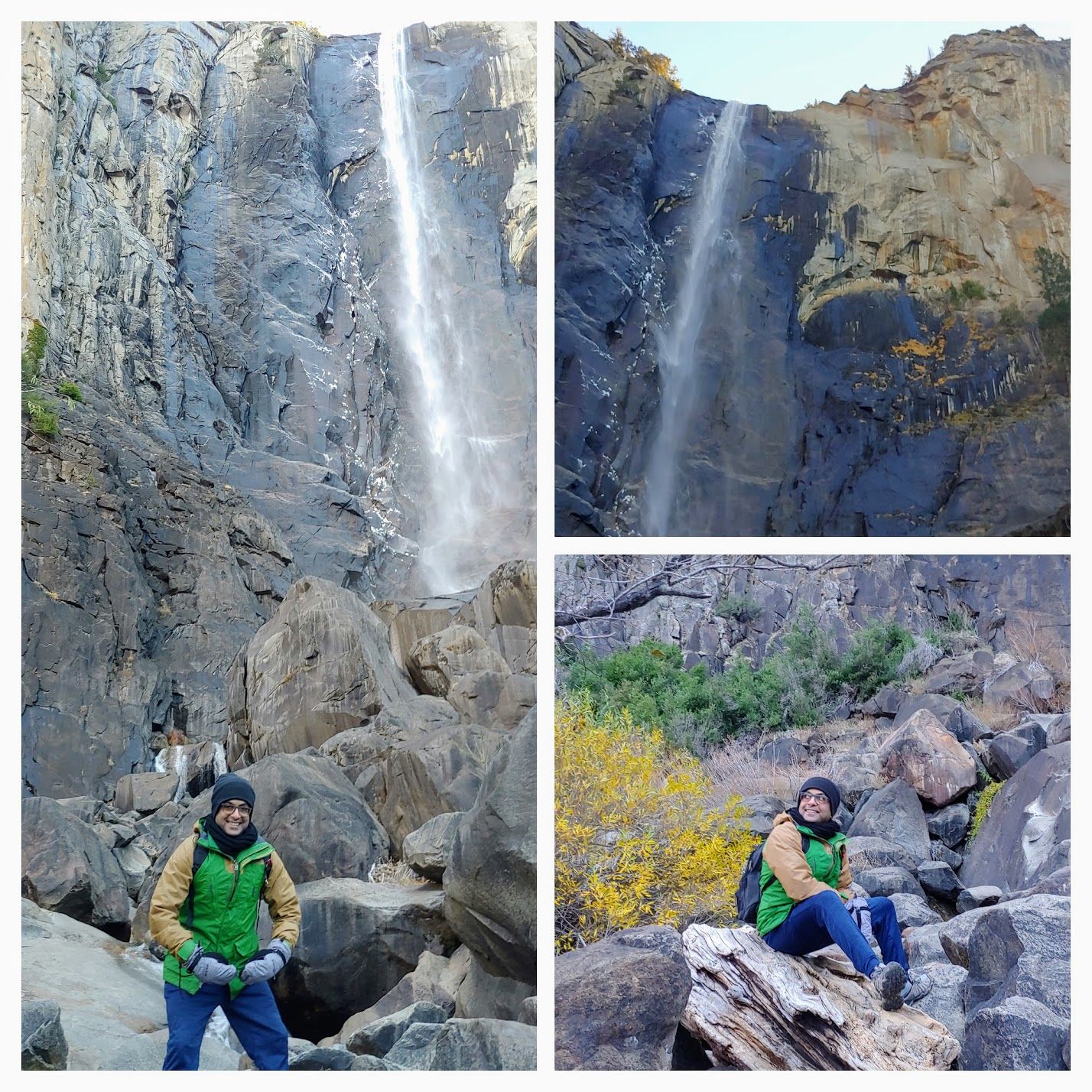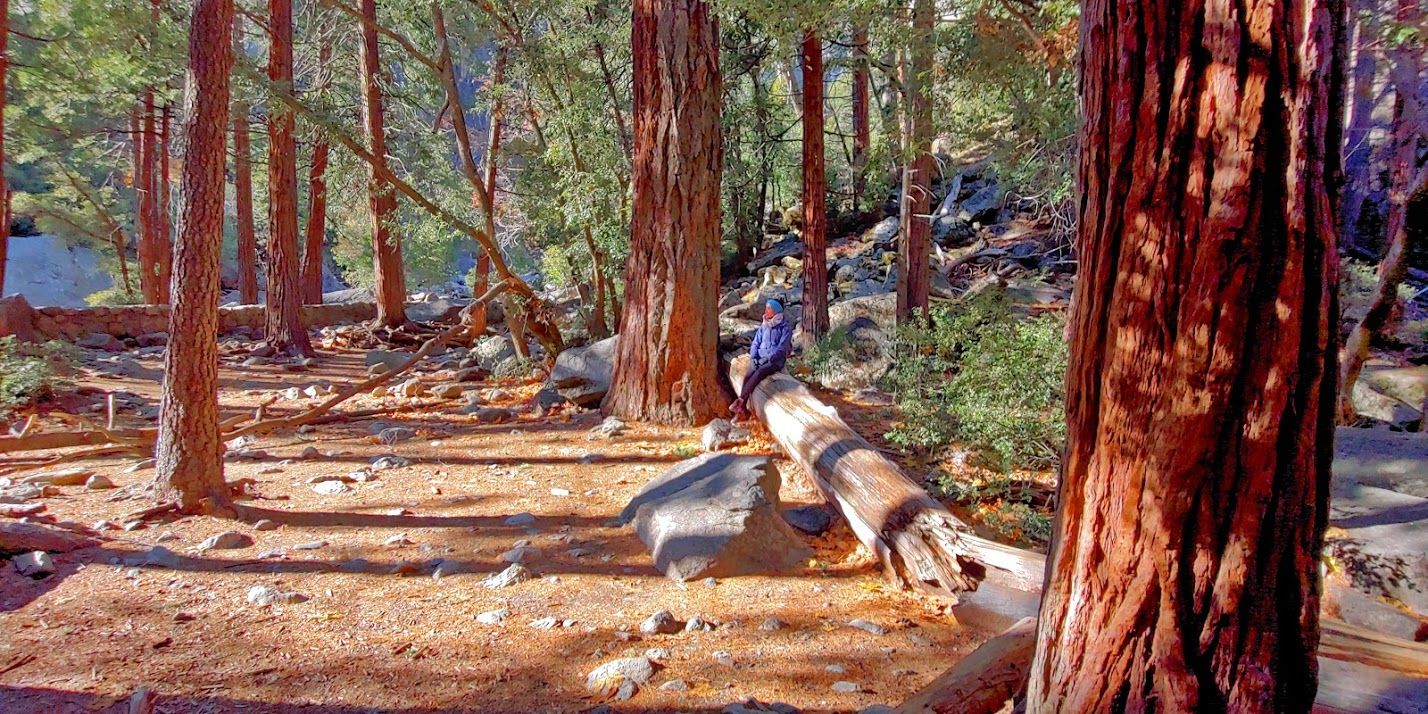 Lodging
Not every visitor to Yosemite desires the camping experiences. For some visitors, a luxury resort of lodging with modern amenities is what they have in mind. When visiting in winter, the weather makes modern lodging even more necessary.
Camping becomes less of an option in the cold winter months. However, there are plenty of heated lodges for your comfort.
Tenaya Lodge & Cottages is a luxury mountain resort, just outside the park. Prices start at approximately $169 a night. This accomondations also offers tours with "luxury tour buses" with roll back roofs for unobstructed views.
Majestic Yosemite Hotel (previously the Ahwahnee Hotel) is much pricier, starting at approximately $348 a night. We stopped in for the fire and clean bathrooms. Shhh, don't tell.
We chose to stay at the Yosemite View Lodge, located two miles from Yosemite's west entrance in El Portal, California. You can bring your pet and groceries as the room feature kitchenettes. After a long day of exploring and hiking, the spa bathtubs are also a plus. Given we visited off season, we were able to snag a room for just under $100 a night with balcony views of the rapids.